Grouseland Vizsla
CH Marco's Kristi Living High - 09-02-1997 - 12-21-2009
Kristi (Honey-Bunny) was special ... she is one of those dogs that wass almost too smart for her own good. We could fill several pages recounting how she taught me to follow her into the woods to find birds ... how she would point them even once they have been "treed" (and "call" me if I couldn't see her and she was on a bird). Not to mention how she could tell the difference between a "rope", a "toy" and a "slipper", etc. In the picture above, Kristi was pointing the pigeons in our aviary just a couple of days before whelping her first litter in 2001. Kristi did however refuse to "hunt" the quail that would be set out for hunt tests. While we did manage to get at least one leg of her "FD" (Field Dog title), she made it quite clear that anything that would not flush on its own - and flush hard - was not worth her attention. Roughed Grouse, Woodcock and Rabbit: now they were fun to hunt! The one thing that was not advisable was to brace (pair) Kristi with Cindy: the two would literally hunt themselves to death rather than concede anything to the other one ... Cindy may be Mommy's Princess, but Kristi was Mommy's Princess-In-Waiting. Kristi was not only smart and a good hunter,however, she was what a Vizsla should really be: versatile ...
Unfortunately, Kristi left us suddenly on December 21st: we had taken her to the vet two days earlier (Saturday) because she was not feeling well. She seemed much better most of Sunday, although not 100%. Sunday evening, she seemed to be weakening again. And before we could get the complete results for her blood tests on Monday, she slipped away, in our arms.
Diane and I had already discussed how it would be particularly difficult when Kristi left us, but with the exception of one day, when she seemed lethargic on one of our daily runs in the field she seemed healthy and full of energy with the usual twinkle in her eyes. And what a twinkle it was! We can only hope to be lucky enough to be blessed with another dog as smart and as complete as Kristi.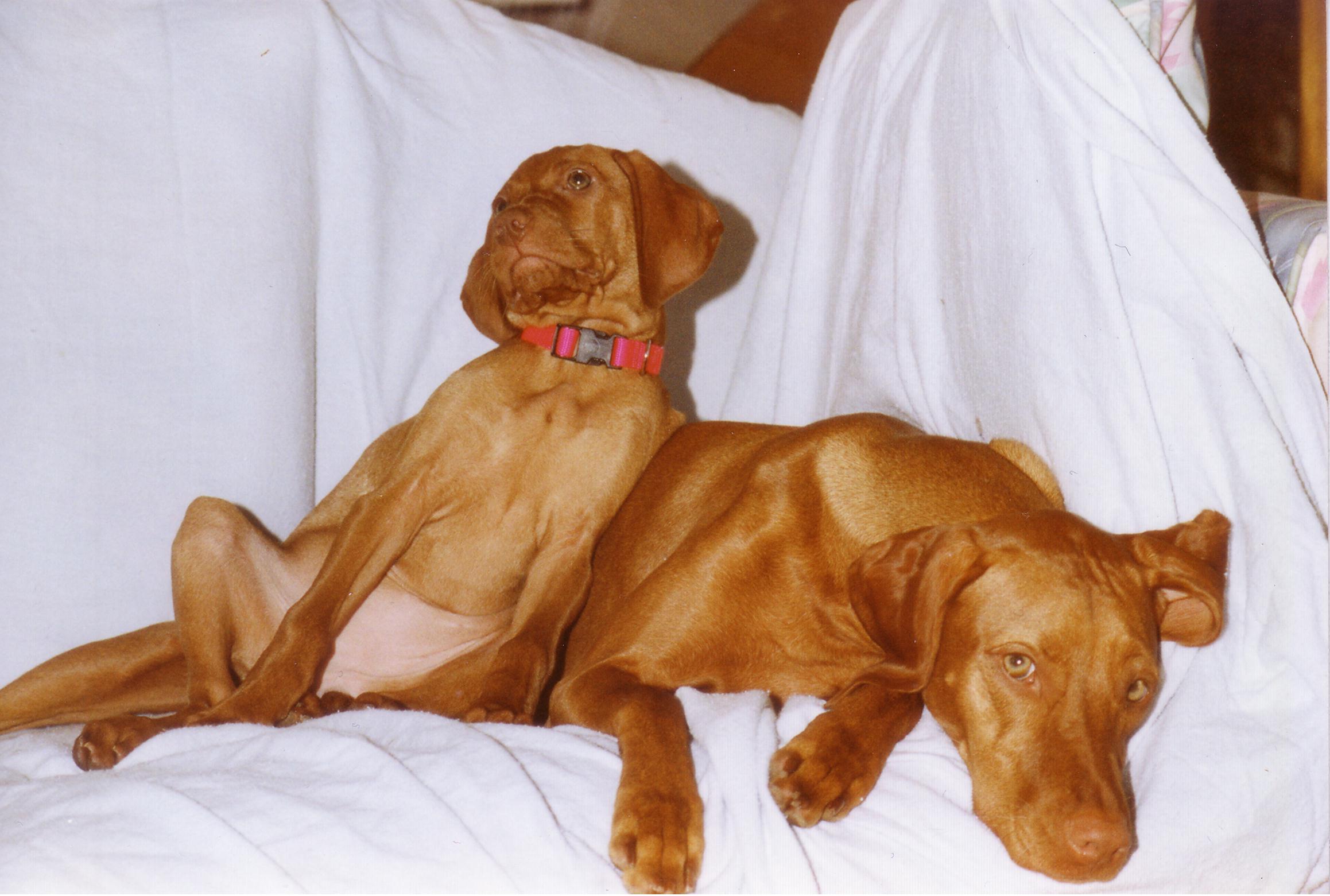 Who me?
Do I look like I'm up
to something? (with Cindy -at left - and a rope)
Kristi's first points - Hochelaga Kennel Club (05-18-1998) Kristi's Championship Photo ( 04-07-2001)
At seven years of age, Kristi took up Agility training ... She has also done Obedience training and Rally-O with Diane. Kristi loves to "work" at anything. Anything to please!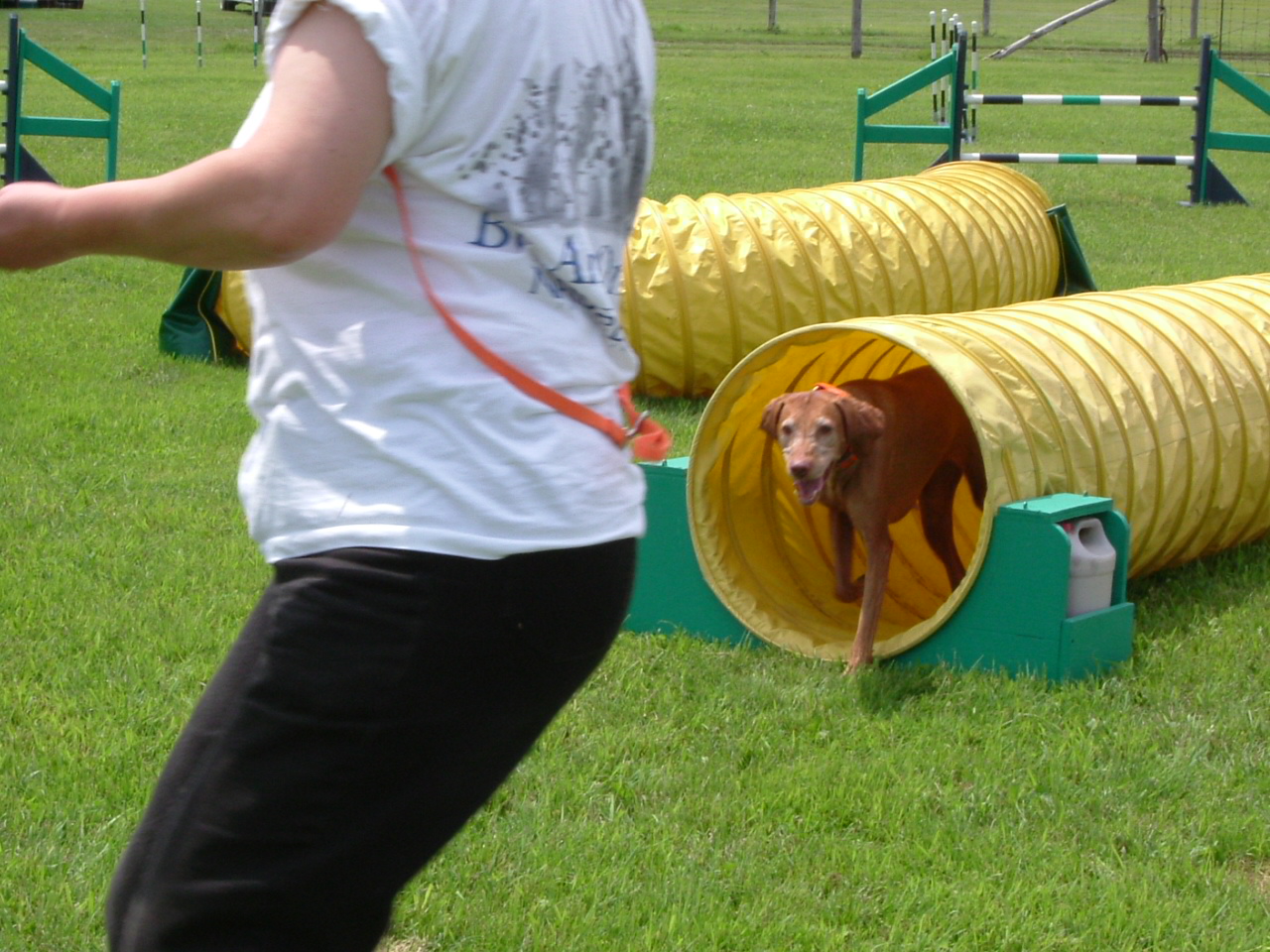 But she has been clowing around all her life ...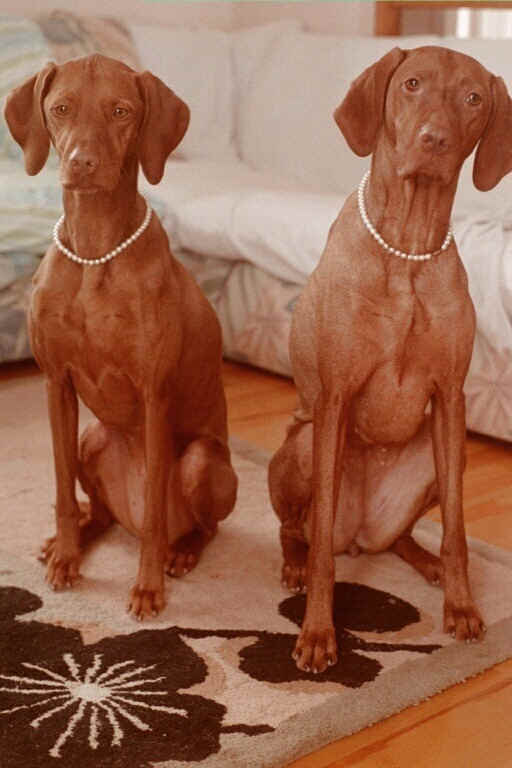 It gets cold hunting in the snow ... Cindy and Kristi: ready for the ball.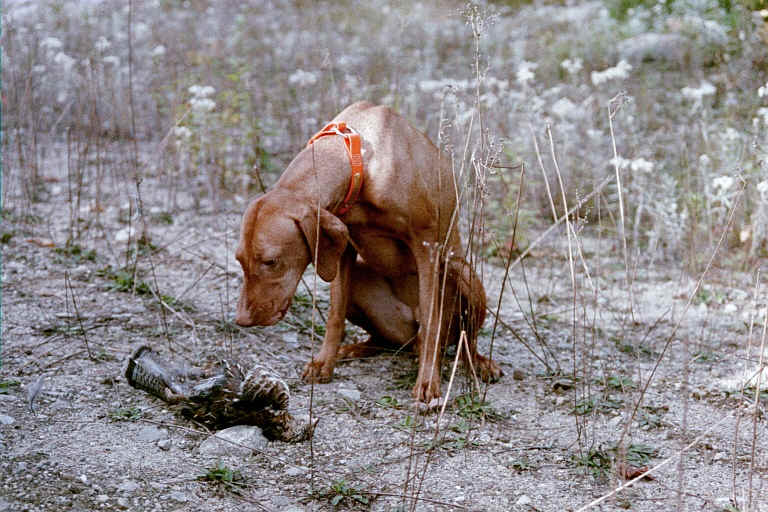 "You better be dead, buster"! I just know I did a good job!